Development of cooperation in grain production of Ukraine: challenges and perspectives
I. Volovyk

Dniprovsky State Agrarian and Economic University

A. Pugach

Dniprovsky State Agrarian and Economic University
Keywords:
Co-operatives; Farmers; Grain production; Infrastructure
Abstract
The article deals with the peculiarities of agribusiness in the grain sector of Ukraine, analyzed trends in grain production and the factors affecting it. The structure of producers in agriculture was investigated according to the scale of business. The role of cooperation for raising the competitiveness of small and medium farms on the grain market was grounded. The experience of the first grain cooperatives in Ukraine to develop services and infrastructure for grain storage had been analyzed. It was established that the development of agricultural service cooperatives is the important factor in the formation of sustainable agriculture and rural development.
References
1. Lafleur, M., Merrien, A.M. (2012). The Socio-Economic Impact of Cooperatives and Mutual. IRECUS, 25 p.
2. CABINET OF MINISTERS OF UKRAINE DECREE from February 7, 2018, No. 106. Kiev. On approval of the procedure for using funds provided in the state budget for financial support to the development of farms. // https://www.kmu.gov.ua/ua/npas/pro-zatverdzhennya-poryadku-vi. Access date: 20.03.2018 (UA).
3. CONCEPT OF THE GOVERNMENT about development of farms and agricultural cooperatives for 2018-2020. http://zakon2.rada.gov.ua/laws/show/ru/664-2017-%D1%80#n8. Access date: 20.03.2018 (UA).
4. Foreign Agricultural Service/USDA. Grain: World Markets and Trade. https://apps.fas.usda.gov/psdonline/circulars/grain.pdf. Access date: 20.03.2018.
5. Foreign Agricultural Service/USDA. GAIN Report – UP1801 – Grain and Feed Update. https://gain.fas.usda.gov/Recent%20GAIN%20Publications/Grain%20and%20Feed%20Update_Kiev_Ukraine_1-16-2018.pdf. Access date: 20.03.2018.
6. State Statistic Service of Ukraine. http://ukrstat.gov.ua/. Access date: 20.03.2018.
7. Ukraine Grain Cooperative Project. https://www.facebook.com/GrainProject/. Access date: 20.03.2018.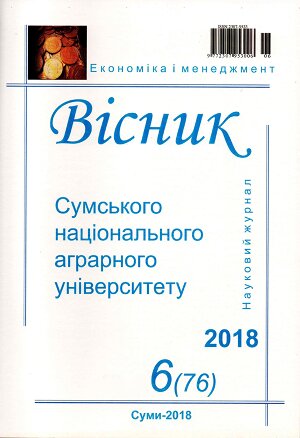 How to Cite
Volovyk, I., & Pugach, A. (2018). Development of cooperation in grain production of Ukraine: challenges and perspectives. Bulletin of Sumy National Agrarian University, (6(76), 21-24. Retrieved from https://snaujournal.com.ua/index.php/journal/article/view/5
Section
ORGANIZATIONAL AND ECONOMIC PROBLEMS