Розроблення механізму комерціалізації інноваційної продукції
Л.Ю. Сагер

Сумський державний університет

Л.О. Сигида

Сумський державний університет
Ключові слова:
комерціалізація, інноваційна продукція, механізм, етапи, матриця
Анотація
У статті здійснено аналіз підходів до сутності поняття «комерціалізація», встановлено ключові елементи визначень та їх питому вагу, що дозволило зрозуміти різницю у поглядах вітчизняних та зарубіжних авторів. Побудовано матрицю етапів процесу комерціалізації та запропоновано власний підхід до аналізованого процесу. Сформовано схему взаємозв'язків механізму комерціалізації інноваційної продукції.
Посилання
1. Denysenko M.P. and Shvablina Ya.V. (2008), Innovative activity of enterprises of Ukraine [Innovatsiina diialnist pidpryiemstv Ukrainy], Problems of science [Problemy nauk], 6, pp. 9-16.
2. Dubnytskyi V.I. and Danylina N.V. (2010), Features of the choice of innovative development directions of large machine-building enterprise [Osoblyvosti vyboru napriamiv innovatsiinoho rozvytku velykoho mashynobudivnoho pidpryiemstva], Bulletin of Economic Sci-ence of Ukraine [Visnyk ekonomichnoi nauky Ukrainy], 2, pp. 34-40.
3. Illiashenko S.M. (2010), Innovative management [Innovatsiinyi menedzhment], Sumy, VTD «Universytetska knyha».
4. Yokhna M.A. and Stadnyk V.V. (2005), Economics and organization of innovative activity [Ekonomika i orhanizatsiia innovatsiinoi diialnosti], Kyiv, Vydavnychyi tsentr «Akademiia».
5. Kuzmin O.Ye. and Lohvynenko Yu.L. (n.d.), Problems of innovations' stimulation at the machine-building enterprises of Ukraine [Problemy stymuliuvannia innovatsii mashynobudivnykh pidpryiemstv Ukrainy], available at: http://vlp.com.ua/node/1963 (accessed 23 August 2018).
6. Maslak O.O., Doroshkevych K.O., and Voronovska M.M. (2012). Factors influencing the innovation activity of industrial enterpris-es [Chynnyky vplyvu na innovatsiinu diialnist promyslovykh pidpryiemstv], Scientific Bulletin of NLTU of Ukraine [Naukovyi visnyk NLTU Ukrainy], Vol. 22.8, pp. 269-274.
7. Pererva P.H. and Hladenko I.V. (2010), Monitoring of innovative activity: interpretation of results [Monitorynh innovatsiinoi diial-nosti: interpretatsiia rezultativ], Marketing and innovation management [Marketynh i menedzhment innovatsii], 2, pp. 108-116.
8. Yakovliev A.I. and Lavrentieva L.S. (2010), Management of assortment and product parameters in market conditions [Upravlinnia asortymentom i parametramy produktsii u rynkovykh umovakh], Kharkiv, NTU KhPI.
9. Vorona T.Yu. (2012), Improvement of the commercialization mechanism of innovative developments of higher educational institu-tions of Ukraine [Vdoskonalennia mekhanizmu komertsializatsii innovatsiinykh rozrobok VNZ Ukrainy], available at: http://dspace.univer.kharkov.ua/bitstream/123456789/6785/2/Vorona.pdf (accessed 04 September 2018).
10. Kuzmin O.Ye. and Kostsyk R.S. (2013), Selection of commercialization methods of enterprises' innovative products [Vybir metodiv komertsializatsii innovatsiinoi produktsii pidpryiemstv], Economy and the state [Ekonomika ta derzhava], 9, pp. 6-8.
11. Olefirenko O.M. (2016), Commercialization of innovations as an objective factor in the effective functioning of an industrial en-terprise [Komertsializatsiia innovatsii yak obiektyvnyi chynnyk efektyvnoho funktsionuvannia promyslovoho pidpryiemstva], Eastern Europe: Economics, Business and Management [Skhidna Yevropa: ekonomika, biznes ta upravlinnia], 5(05), pp. 179-183.
12. Tsybynoha M.O., Starkova O.V. and Hnuchykh L.A. (2011), Organizational mechanism of the procedure of innovations' com-mercialization [Orhanizatsiinyi mekhanizm protsedury komertsializatsii innovatsii], Information processing systems [Systemy obrobky infor-matsii], Vol. 2, pp. 273-276.
13. Mukhopad V.I. (2010), Commercialization of Intellectual Property [Kommertsialyzatsiia intellektualnoi sobstvennosti], Moscow: Mahistr, pp. 51-54.
14. Siegel R.A., Hansén S.O. and Pellas L.H. (1995), Accelerating the commercialization of technology: commercialization through co-operation, Industrial Management & Data Systems, Vol. 95, 1, pp. 18-26.
15. Prokhorov A.N. (2011), Foreign experience in the process of intellectual property commercialization [Zarubezhnyi opyt postroeniia protsessa kommertsializatsii intellektualnoi sobstvennosti], Bulletin of the Tyumen state university [Vestnik Tiumenskoho hos. Un-ta], 11, pp. 66-70.
16. Kozmetskyi J. (1999), he challenge of technological innovation on the eve of a new era of global competition [Vyzov tekhnolo-hicheskikh innovatsii na porohe novoi ery obshchemirovoi konkurentsii], Transfer of technology and effective implementation of innovations [Transfer tekhnolohii i effektivnaia realizatsiia innovatsii], pod red. N.M. Fonshtein, Moscow: ANKh, pp. 11-12.
17. Monastyrnyi E.A. and Hryk Ya.N. (2004), Resource approach to the construction of business processes and the commercializa-tion of developments [Resursnyi podkhod k postroeniiu biznes-protsessov i kommertsializatsii razrabotok], Innovations [Innovatsii], 7, pp. 85-87.
18. James F. Jordan. (2014), Innovation, Commercialization, and the Successful Startup, 254.
19. U.S. Congress, (1995), Office of Technology Assessment, Innovation and Commercialization of Emerging Technology, OTA-BP-ITC-165, 102.
20. Cambridge Dictionary (2014), available at: https://dictionary.cambridge.org/ru/словарь/английский/commercialize (accessed 05 September 2018).
21. Akgun A.E., Dayan M., Benedetto A.D. (2008), New product development team intelligence: Antecedents and consequences Info. Manage, 45, рр. 221-226.
22. APCTT (n.d.), available at: http://www.apctt.org/ (accessed 05 September 2018).
23. Aghajani H.A. and Yazdanpanah E. (2005), Consideration of effective factors on technology transfer from university to industry at universities, Fourth conference on Iran's technology management, Tehran: Assembly of Iran's Technology Management.
24. Shushakova I.K. (2015), Peculiarities of commercialization of intellectual property for domestic enterprises [Osoblyvosti komertsializatsii obiektiv intelektualnoi vlasnosti na vitchyznianykh pidpryiemstvakh], Financial and credit activity: problems of theory and practice [Finansovo-kredytna diialnist: problemy teorii ta praktyky], 2, рр. 133-141.
25. Karpenko A.V. and Kononenko Yu.S. (2017), Strategic importance of commercialization for innovative development of national economics [Stratehichne znachennia komertsializatsii dlia innovatsiinoho rozvytku natsionalnoi ekonomiky], Economiсs and organization of management [Ekonomika i orhanizatsiia upravlinnia], 1 (25), рр. 190-201.
26. Vladyka M.V. (2009), Commercialization of the scientific and technical activity results of higher educational institutions: goals, forms, problems [Kommertsyalizatsyia rezultatov nauchno-tekhnicheskoi deiatelnosti VUZov: tsely, formy, problemy], [Journal University Management: Practice and Analysis Unyversytetskoe upravlenye: practika i analis], 5, рр. 54-63.
27. Zubko O.V. (2010), The teoretical aspects of innovation commercialization in the conditions of Globalization [Teoretychni aspekty komertsializatsii innovatsii v umovakh hlobalizatsii], Construction science in the system of providing effective work of the construc-tion Ukraine industry [Budivelna nauka v systemi zabezpechennia efektyvnoi roboty budivelnoi haluzi Ukrainy], рр. 2-10.
28. Butko M.P. and Popelo O.V. (2015), Commercialization of the results of scientific and technological activities under integration processes deepening [Komertsializatsiia rezultativ naukovo-tekhnichnoi diialnosti v umovakh pohlyblennia intehratsiinykh protsesiv], Prob-lems and prospects of economics and management [Problemy i perspektyvy ekonomiky ta upravlinnia], 1, pp. 7-20 [in Ukrainian].
29. Kalynychenko M.P. (2012), The marketing of innovation activity results commercialization in industry [Marketynh komertsializatsii rezultativ innovatsiinoi diialnosti v promyslovosti], Marketing and Management of Innovations [Marketynh i menedzhment innovatsii], 4, pp. 43-50.
30. Liashenko O.M. (2010), Commercialization and technology transfer: categories and innovative activity methods [Komertsi-alizatsiia ta transfer tekhnolohii: katehorii ta metody innovatsiinoi diialnosti], Innovative economy [Innovatsiina ekonomika], 5, pp. 8-13.
31. Kovtunenko Yu.V. (2012), Organization features of the commercialization process of high-tech enterprises' innovations [Osoblyvosti orhanizatsii protsesu komertsializatsii innovatsiinykh rozrobok vysokotekhnolohichnykh pidpryiemstv], Odeskyi Politechnichnyi Universytet. Pratsi [Pratsi Odeskoho politekhnichnoho universytetu], 2(39), pp. 313-317.
32. Kostsyk R.S. (2016), Komertsializatsiia innovatsiinoi produktsii mashynobudivnykh pidpryiemstv [Commercializing innovative products of machine-building enterprises]. Candidate's thesis, Lviv: Lviv Polytechnic National University.
33. Cooper R.G. (1993), Stage-gate systems: A new tool for managing new products, Business Horizons, May-June, pp. 44-54.
34. MIT Technology Licensing Office. An inventors guide to technology transfer at MIT. – Massachusetts Institute of Technology (2005), available at: http://web.mit.edu/tlo/documents/MIT-TLO-inventors-guide.pdf (accessed 06 September 2018).
35. Kotova I.M. (2013), Commercialization of scientific innovation research universities: realities and prospects [Komertsializatsiia rezultativ naukovykh doslidzhen: realii ta perspektyvy], University Economic Herald. Collection of scientific works of scientists and post-graduate students of Pereyaslav-Khmelnytsky Pedagogical University named after Gregory Skovoroda [Ekonomichnyi visnyk universytetu. Zbirnyk prats uchenykh ta aspirantiv DVNZ «Pereiaslav-Khmelnytskyi pedahohichnyi universytet imeni Hryhoriia Skovorody»], 20 (4), pp. 20-24.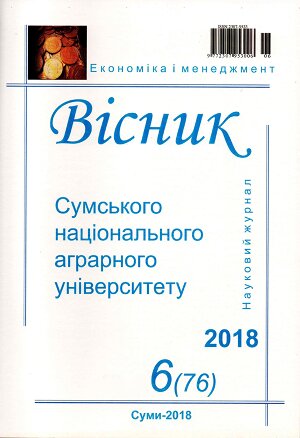 Як цитувати
Сагер, Л., & Сигида, Л. (2018). Розроблення механізму комерціалізації інноваційної продукції. Вісник Сумського національного аграрного університету. Серія: Економіка і менеджмент, (6(76), 63-70. вилучено із https://snaujournal.com.ua/index.php/journal/article/view/15