Methodological principles for determination and assessment of competitiveness of rural green tourism enterprises
O.O. Adamchуk

Kherson State Agrarian University (Kherson, Ukraine)
Keywords:
enterprises, rural green tourism, competitiveness, methodical principles, price, quality, modeling, resources, management decisions
Abstract
The article substantiates the methodological principles of determining and assessing the competitiveness of rural green tourism enterprises. Emphasis is placed on the fact that its level is influenced not only by the internal environment of the enterprise and industry, products and services, but perhaps the greatest impact is exerted by intersectoral competition, primarily from agriculture. To assess various aspects of competitiveness, a set of methods is proposed: statistical and economic, computational, normative, mathematical modeling, questionnaires, surveys. An algorithm has been developed and meaningful stages of research have been identified. The principles of competitiveness assessment are offered.
References
1. Бейдик О. О. Рекреаційно-туристські ресурси України: методологія та методика аналізу, термінологія, районування: монографія. К.: ВПЦ «Київський університет», 2001. 395 с.
2. Мармуль Л., Романюк І. Потенціал конкурентоспроможності підприємницької діяльності у галузі сільського зеленого туризму. Вісник Бердянського університету менеджменту і бізнесу. 2017. № 1 (37). С. 47-50.
3. Тарнавська Н. П. Управління конкурентоспроможністю підприємств: теорія, методологія, практика. Тернопіль: Еконо-мічна думка, 2008. 570 с.
4. Любіцева О. О., Панкова Є. В., Стафійчук В. І. Туристичні ресурси України. К.: Альтерпрес. 2007. 369 с.
5. Ігнатенко М.М., Мармуль Л.О., Сарапіна О.А. Соціально-економічний потенціал сільських територій як основа розвит-ку підприємств сільського зеленого туризму на засадах інноваційності. Економіка та менеджмент культури. № 2. 2016. С. 32-38.
6. Портер М. Конкурентная стратегия: методика анализа отраслей и конкурентов. М.: Альпина Бизнес Букс, 2005. 54 с.
7. Мандич О.В., Романюк І.А., Нікітіна О.М. PR-маркетинг як один з інструментів підвищення конкурентоспроможності підприємства. Вісник ХНТУСГ : економічні науки. Вип. 177. 2016. С. 160-165.
8. Фатхутдинов Р.А. Конкурентоспособность организации в условиях кризиса: экономика, маркетинг, менеджмент. Изда-тельско-книготорговый центр "Маркетинг", Москва, 2002. 892 с.
9. Брич В. Я., Мазур В. С. Управління якістю туристичних послуг в сучасних умовах господарювання. Стратегія еконо-мічного розвитку України. 2014. №35. С. 161-172.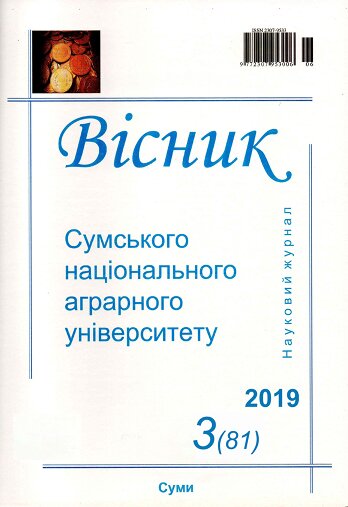 How to Cite
Adamchуk O. (2019). Methodological principles for determination and assessment of competitiveness of rural green tourism enterprises. Bulletin of Sumy National Agrarian University. Economics and Management, (3(81), 141-144. https://doi.org/10.32845/bsnau.2019.3.26