Feasibility of establishing the local operator of e-waste movement from user to processing enterprise for prevention of informal sector of waste management in Ukraine
T.I. Shevchenko

Sumy National Agrarian University (Sumy, Ukraine)

https://orcid.org/0000-0002-3213-819X

N.I. Honcharova

Hlukhiv agrotechnical institute of Sumy National Agrarian University (Hlukhiv, Ukraine)

Yu. Melnyk

Sumy National Agrarian University (Sumy, Ukraine)
Keywords:
municipal solid waste, e-waste, waste electrical and electronic equipment, informal sector, e-waste collection, recycling
Abstract
The article substantiates the feasibility of creating a local operator for collection of waste electrical and electronic equipment to prevent the development of waste management informal sector in Ukraine. We propose an e-waste reverse logistic system, by ten categories, from user to processing enterprise based on the electronic processing of user requests on this waste collection and creation of appropriate information database. A query database with relevant online maps will minimize transport costs and reduce CO2 due to use of vehicles' routes available potential of local delivery services for separate collection of e-waste in the city instead of  introducing targeted transport for e-waste collection.
References
1. Андрєєва Н.М., Барун М.В. Використання інноваційно-наукового центру з впровадження ресурсозберігаючих та еко-лого орієнтованих проектів на базі краудсорсингової платформи. Вісник ОНУ імені І.І. Мечникова. Одеса. 2014. Т.19. Вип. 3/3. C.126-130.
2. Виговська Г.П. Концептуально-методологічні засади мінімізації відходів на базі оцінювання життєвого циклу продуктів та матеріалів. Екологічні науки. 2013. No 4. С. 111–125.
3. Губанова О.Р. Електронні відходи: теорія та практика поводження: Монографія / О.Р. Губанова. – Одеса: «ТЕС», 2014. – 120 с.
4. Коджебаш А. П., Хумарова Н. І. Транспортно-логістична система відповідального поводження з відходами: економіко-екологічні чинники та інструменти // Економічний простір. 2019. № 144. С. 194-210.
5. Шевченко Т.І. Електронна карткова система нарахування бонусів як технологія мотивації користувача до участі у сор-туванні небезпечних побутових відходів / Т.І. Шевченко, О.М. Курило // Вісник СНАУ. Серія Економіка. – 2017. – № 8 (73).
6. Шевченко Т.І. Служби доставки як спосіб забезпечення зворотного руху електронних відходів // Вісник СНАУ. Серія Економіка. – 2018. – №6.
7. Шуптар Н.Й. Інструментальне забезпечення поводження з відпрацьованими джерелами живлення. Глобальні та на-ціональні проблеми економіки. 2016. № 9. С. 577-580.
8. Baldе C.P., Forti V., Gray V., Kuehr R., Stegmann P. The Global E-waste Monitor – 2017, United Nations University, Interna-tional Telecommunication Union & International Solid Waste Association, Bonn/Geneva/Vienna. 2017. Available online: https://www.itu.int/en/ITU-D/Climate-Change/Documents/GEM%202017/Global-E-waste%20Monitor%202017%20.pdf.
9. Borthakur A., Govind M. Emerging trends in consumers' E-waste disposal behaviour andawareness: A worldwide overview with special focus on India. Resources, Conservation and Recycling, 2017, 117, 102–113.
10. Colesca S.E., Ciocoiu C.N., Popescu M.L. Determinants of WEEE Recycling Behaviour in Romania: A fuzzy Approach. Int. J. Environ. Res. 2014, 8(2), 353–366.
11. Chi X., Wang M.Y.L., Reuter M.A. E-waste collection channels and household recycling behaviors in Taizhou of China. Journal of Cleaner Production. 2014, 80, 87–95.
12. Directive No 2012/19/EC of the European Parliament and of the Council of 4 July 2012 on waste electrical and electronic equipment.
13. Liu X., Tanaka M., Matsui Y. Generation amount prediction and material flow analysis of electronic waste: Case study in Bei-jing. Waste Management & Research, 2006, 24(5), 434–445. Doi:10.1177/0734242X06067449
14. Lu C.Y., Zhang L., Zhong Y.G., Ren W.X., Tobias M. et al. An overview of E-waste management in China. J. Mater. Cycles Waste Manage. 2015, 17(1), 1–12. Doi:10.1007/s10163-014-0256-8.
15. Nduneseokwu C.K., Qu Y., Appolloni A. Factors influencing consumers' intentions to participate in a formal e-waste collec-tion system: A case study of Onitsha, Nigeria. Sustainability, 2017, 9(6), 1–17. Doi:10.3390/su9060881.
16. Nnorom I.C., Ohakwe J., Osibanjo O. Survey of willingness of residents to participate in electronic waste recycling in Nigeria – A case study of mobile phone recycling. J. Clean. Prod. 2009, 17, 1629–1637. Doi:10.1016/j.jclepro.2009.08.009.
17. Ongondo F.O., Williams I.D. Mobile phone collection, reuse and recycling in the UK. Waste Management. 2011, 31, 1307–1315. Doi:10.1016/j.wasman.2011.01.032.
18. Shevchenko T., Danko Y., Krasnorutskyy O. Management of Waste Electrical and Electronic Products in Compliance with the Circular Economy: What are the Future Challenges for EU Member States? International Journal of Ecology & Development. 2018, 33(3), 47-55.
19. Shevchenko T., Laitala K., Danko Y. Understanding Consumer E-Waste Recycling Behavior: Introducing a New Economic Incentive to Increase the Collection Rates. Sustainability 2019, 11, 2656.
20. United Nations Environmental Program: Recycling e from E-waste to resources, 2009. – http://isp.unu.edu/news/2010/files/UNEP_eW2R_publication.pdf.
21. Yu J.L., Williams E., Ju M.T., Shao C.F. Managing e-waste in China: policies, pilot projects and alternative approaches. Resour. Conserv. Recycl. 2010, 54(11), 991-999. Doi:10.1016/j.resconrec.2010.02.006.
22. Wang F., Huisman J., Stevels A., Balde C. Enhancing e-waste estimates: Improving data quality by multivariate Input–Output Analysis. Waste Management, 2013, 33, 2397-2407.
23. Wang Z., Zhang B., Yin J., Zhang X. Willingness and behavior towards e-waste recycling for residents in Beijing city, China. Journal of Cleaner Production. 2011, 19, 977–984. Doi:10.1016/j.jclepro.2010.09.016.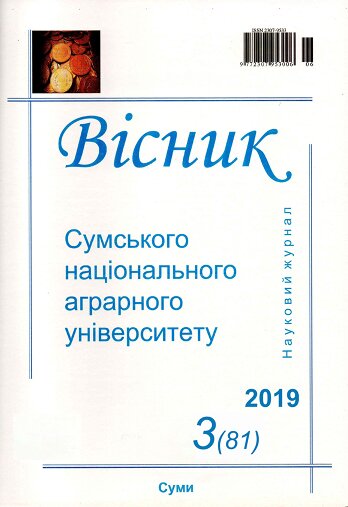 How to Cite
Shevchenko, T., Honcharova , N., & Melnyk, Y. (2019). Feasibility of establishing the local operator of e-waste movement from user to processing enterprise for prevention of informal sector of waste management in Ukraine. Bulletin of Sumy National Agrarian University. Economics and Management, (3(81), 23-29. https://doi.org/10.32845/bsnau.2019.3.5