The current state and prerequisites for the development of renewable energy in Ukraine
I.V. Lozynska

Sumy National Agrarian University (Sumy, Ukraine)

https://orcid.org/0000-0002-8038-8484

O.A. Skrypnyk

Sumy National Agrarian University (Sumy, Ukraine)

D.M. Skrypnyk

Sumy National Agrarian University (Sumy, Ukraine)
Keywords:
renewable energy, energy security, energy efficiency
Abstract
With Ukraine's growing energy dependence on Russian energy supplies and the steady rise in energy prices, the country's burgeoning emerging economy suffers significant losses, leading to a decline in production and a slowdown in socio-economic development. Therefore, the issue of reducing energy dependency through the formation of an effective energy conservation program and the development of alternative energy in Ukraine should be considered as strategically important, which need urgent solution.
References
1. Енергетична стратегія України на період до 2030 року [Електронний ресурс] – Режим доступу: zakon.rada.gov.ua/signal/kr06145a.doc.
2. Лежнева Л.І. Потенціал розвитку нетрадиційних джерел енергії в Україні як фактор забезпечення енергетичної безпеки [Електронний ресурс]. – Режим доступу: http://www.nbuv.gov.ua/portal/soc_gum/knp/155/ knp155_52-54.pdf .
3. Артемова В.Я. Энергосбережение: Альтернативние источники инновации / [Електронний ресурс]. – Режим доступу: http://problemynauki.wordpress.com.
4. Будзяк В.М. Становлення вітроенергетики України / В.М. Будзяк // Економіка України. - 2009. - №3. - С. 84—86.
5. Тарнижевский Б. Нетрадиционные возобновляемые источники энергии: вчера, сегодня, завтра /Б. Тарнижевский [Електронний ресурс] // – Режим доступу: http://solar-battery.narod.ru/altenerg2.htm
6. Гелетуха Г., Кудря С. Україна: нетрадиційні та відновлювальні джерела енергії / Г.Гелетуха, С. Кудря // Енергозбереження Полісся. - 2005. - №4-5. - С. 8-11.
7. Нетрадиційні та відновлювальні джерела енергії в Україні у світлі нових європейських ініціатив / А. Шевцов, М. Земляний, Т.Ряузова [Електронний ресурс] - Режим доступу: www.niss.gov.ua/Monitor//november08/2.htm.
8. А. Глібова. Формування інформаційно-аналітичних даних у сфері енергозбереження та екологічних джерел енергії / А.Глібова [Електронний ресурс] – Режим доступу: http://cstei.lviv.ua/upload/pub/Energo/1259276320_99.pdf.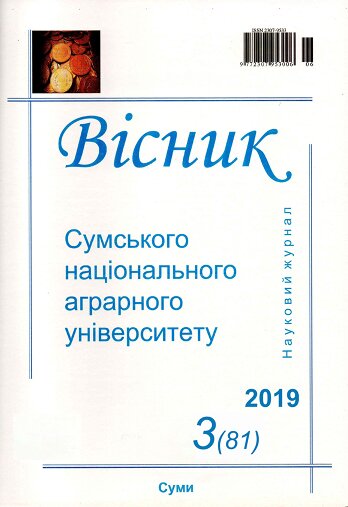 How to Cite
Lozynska , I., Skrypnyk , O., & Skrypnyk , D. (2019). The current state and prerequisites for the development of renewable energy in Ukraine. Bulletin of Sumy National Agrarian University. Economics and Management, (3(81), 12-15. https://doi.org/10.32845/bsnau.2019.3.3