Theoretical approaches to definition of public administration
Keywords:
public administration, public management issues, politic administration issues, organizational theory, public administration, administrative theory
Abstract
Public administration is defined as a form of thinking and a field of study that changes from a paradigm dominated by political science to an eclectic array of theoretical contributions of all social sciences, including economics, philosophy, sociology, management and others. Basic knowledge of economics is important for effective modern public administration, because without a fundamental understanding of the economy, many mistakes can be made in politics.
This research has shown that the public sector of economy and public administration are becoming increasingly important within current environment. Public administration is the analysis and development of policies within public and private sectors, as well as activities of the public sector, which should be seen as a mission to serve its people.
In accordance with the purpose of this research, main approaches to the definition of public administration were defined; correspondence of this definition to the conditions of globalization and current state of society and state-making were analyzed.
The review of many publications and latest trends of general law allow us to highlight main points of view on values, benchmarks and essence of new public management. Among the challenges of the development of public administration system are the following: the prospect of results beyond the conventional distinction between traditional and contemporary styles of public administration, the risk of improper copying, experience of other countries; quasi-constitutional issues regarding the core competencies of public sector bodies: main points of view on values and benchmarks in public administration - it is a transition from standard forms of service to more flexible and different ones. The use of the term "public administration" in the media, scientific publications, legislation, etc. is often related to "state administration", but it takes on a different meaning.
In terms of this research public administration is considered from several points of view, based on the review of foreign and domestic literature. As part of our research we have come to the conclusion that this concept is ambiguous and needs further analysis due to the fact that understanding of the essence of such a phenomenon as public management and approaches to its development directly influences state-making and socio-economic development.
References
1. Zorn K. C. (1998). The economic perspective on public administration. International Journal of Public Administration, Volume 21. Issue 6-8. P.1119-1136.
2. Aderibigbe А., John O., John O. (2014). Towards A Theoretical Definition of Public Administration. Journal of Management. Volume 16. P.65-70.
3. Dunleavy P., Hood C. (1994). From old public administration to new public management. Public Money and Management. Volume 14. Issue 3. P.9-16.
4. Jackson M., Hood C. (1991). The New Public Management: A Recipe for Disaster? Canberra Bulletin of Public Administra-tion. Volume 64. Р. 12-17.
5. Daniel Martin (1993). Foundations of public administration: Introduction to the symposium. International Journal of Public Ad-ministration. Volume 16. Issue 2. P. xi-xiv
6. Merkus, S., Veenswijk, M. B. (2017). Turning New Public Management theory into reality: Per formative struggle during a large scale planning process. Environment and Planning C. Government and Policy. №35(7). Р. 1264-1284.
7. Muhammad N. A. (2015). Practitioner Envy and Construction of the Other in Public Administration. Administration and Socie-ty. № 49 (10). P. 1403-1423.
8. Norbutus D. K., Norbutus T. J. (2013). Leadership in Complex Situations. Managing and Engineering in Complex Situations, P. 165-181.
9. Perez A. (1993). Historical change and the administrative state: An analysis of the theoretical foundations of public administra-tion. International Journal of Public Administration. Volume 16. Issue 2. P. 261-293.
10. Stever J. A. (1993). Modernism, administration, and the post-progressive era. International Journal of Public Administration. Volume 16. Issue 2. P.237-259.
11. Stout M. (2006) A Samurai's Lineage: Theoretical Traditions in Public Administration. Administrative Theory and Praxis. Vol-ume 28. Issue 4. P. 618-630.
12. Ugyel L. (2017). Relationship between politics and administration: a comparative analysis of legislation and governance in Pacific Island government alsystems. Asia Pacific Journal of Public Administration. Volume 39. Issue 3. P.153-162.
13. Кошелева Л. (2018). Основні теоретичні підходи до визначення публічного адміністрування. Державне управління та місцеве самоврядування. № 2(37). С.13-19.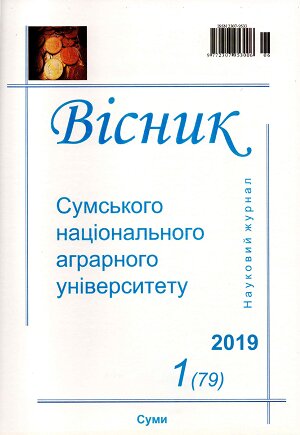 How to Cite
Slavkova, O., & Sokolov, M. (2019). Theoretical approaches to definition of public administration. Bulletin of Sumy National Agrarian University, (1(79), 77-80. https://doi.org/10.32845/bsnau.2019.1.14