Estimation of efficiency of business processes of the enterprise
O.V. Olshansky

Kharkiv State University of Food and Trade
Keywords:
business process, efficiency, criterion,, algorithm,
Abstract
The evaluation criteria for the effectiveness of a company's business processes, based on the proposed algorithm in accordance with the objectives of business processes and customer requirements, have been defined and systematized. A method for evaluating and raising the effectiveness of business processes, which in contrast to existing approaches, allows for the evaluation of business processes relative to the achieved internal level (the effectiveness of business processes), evaluating and improving the performance of business processes with respect to sectoral and global levels (business processes benchmarking).
References
1. Ольшанський О. В. Підвищення результативності бізнес-процесів на підприємстві / О. В. Ольшанський, В. М. Селютін, Б. Вард // Економічна стратегія і перспективи розвитку сфери торгівлі та послуг : зб. наук. пр. у 2 ч. Ч. 1. – Х. : ХДУХТ, 2017. – Вип. 1 (25). – С. 245–256.
2. Ольшанський О. В. Проблеми впровадження міжнародних стандартів якості в операційну діяльність готелів / О. В. Ольшан-ський // Економічна стратегія і перспективи розвитку сфери торгівлі та послуг : зб. наук. пр. у 2 ч. Ч. 1. – Х. : ХДУХТ, 2014. – Вип. 1 (19). – С. 264–273.
3. Ольшанський О. В. Формування політики якості послуг в підприємствах туристичного профілю / О. В. Ольшанський // Еко-номічна стратегія і перспективи розвитку сфери торгівлі та послуг : зб. наук. пр. у 2 ч. Ч. 2. – Х. : ХДУХТ, 2014. – Вип. 2 (20). – С. 240–250.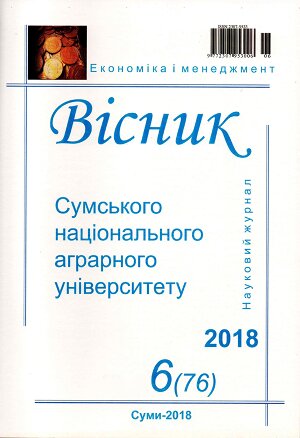 How to Cite
Olshansky, O. (2018). Estimation of efficiency of business processes of the enterprise. Bulletin of Sumy National Agrarian University, (6(76), 53-55. Retrieved from https://snaujournal.com.ua/index.php/journal/article/view/12
Section
BUSINESS ECONOMICS